News Reading

Easy Talking Notepad enchance the ability of computer to talk and read your emails, documents,online news in one of its many voices and converts them into WAV or MP3 file.
Main screen:-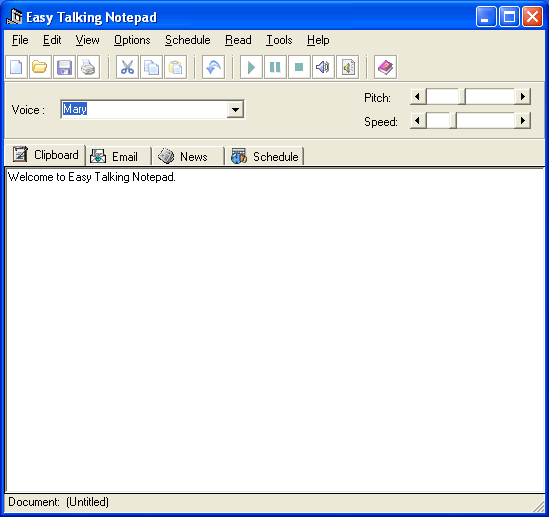 Easy Talking Notepad combines the power of Notepad and speech program in one program where it offers a large number of features which including converts text file to MP3 or WAV, ability to speak in real-time, allowscheduling for online news reading, documents reading and text readings. Easy Talking Notepadsupports AT&T Labs' Natural Voices fonts so you can add more voices from time to time.

The intuitive interface makes Easy Talking Notepad the perfect tool for both new and experienced users. Besides play, stop and pause, it allow the user to increase the speed and pitch of the speech. Right-click quick converting text file to audio MP3 or WAV is also supported.
Key Features:
Read Texts
Read Emails
Read Documents
Read Online News
Read-Time Speech
Convert Texts to MP3 or WAV
Convert Text File to MP3 or WAV
Support Most Of The Computer Voices
Read the texts that copied to clipboard
Right Click Quick Converts Text File To Audio MP3/WAV
Speech Scheduling for News, Texts and Documents Reading
Support Mutiple Email Accounts
Store received emails
System Requirements:
Microsoft Windows ME, XP, NT 4.0, 2000, 2003
Pentium 200 Processor
64 MB RAM
20 MB Hard Disk Storage
Just Free Download and keep Enjoy your life but don't forget to leave comment (like/dislike).